Module quang HPE JD063B X125 1GBASE-LH70 SFP LC Duplex 1550nm 80km Single Mode Transceiver
HPE Part Number        : JD063B 
Tình trạng hàng hóa : Mới, Nguyên hộp 
Bảo hành                    : 12 tháng 1 đổi 1
Module quang HPE JD063B là module quang cho môi trường truyền dẫn Single Mode với bước sóng là 1550nm, khoảng cách truyền dẫn tối đa là 80km, sử dụng đầu kết nối LC/LC (2 đầu nhỏ), Module quang SFP này hỗ thay thế nóng, điều đó có nghĩa là cho phép bạn thay thế, cắm SFP vào Switch, Router của HPE mà không cần phải tắt thiết bị hoặc khởi động lại thiết bị, mà thiết bị tự nhận và active để hoạt động luôn khi SFP được cắm vào. Vì đây là module quang Single Mode do vậy để đảm bảo SFP hoạt động được thì mọi thứ phải đồng bộ, tức là cáp quang truyền dẫn, dây nhẩy, dây đuôi chuột phải là Single Mode.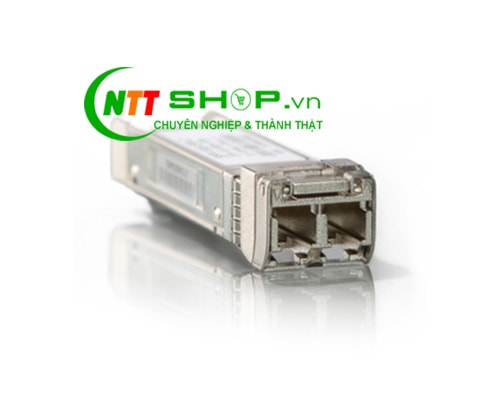 Nếu JD063B được dùng làm uplink cho việc truyền dẫn các tín hiệu Video như IP Camera, Hội Nghị Truyền Hình hay IP Tivi thì: Transceiver JD063B  có thể truyền tải dữ liệu cho khoảng 433 IP Camera HD (720p), hoặc là 325 IP Camera Full HD (1080P).
Thông số kỹ thuật của Module quang HPE JD063B: 
HPE X125 1G SFP LC LH70 Transceiver (JD063B)

A small form-factor pluggable (SFP) Gigabit LH70 transceiver that provides a full-duplex Gigabit solution up to 70km on a single-mode fiber.

Ports

1 LC 1000BASE-LH port (no IEEE standard exists for 1550 nm optics)

Connectivity

Connector type

LC

Wavelength

1550 nm

Physical characteristics

Dimensions

2.17(d) x 0.6(w) x 0.46(h) in. (5.51 x 1.52 x 1.17 cm)

Full configuration weight

0.04 lb. (0.02 kg)

Electrical characteristics

Power consumption typical

0.8 W

Power consumption maximum

1.0 W

Cabling

Cable type:
Single-mode fiber optic, complying with ITU-T G.652;

Maximum distance:
70km

Fiber type

Single Mode

Services

Refer to the Hewlett Packard Enterprise website at http://www.hpe.com/networking/services for details on the service-level descriptions and product numbers. For details about services and response times in your area, please contact your local Hewlett Packard Enterprise sales office.
Module quang HPE JD063B được sử dụng cho các dòng thiết bị sau của HPE:
HPE 6125G Ethernet Blade Switch
HPE 6125G/XG Ethernet Blade Switch
HPE 6125XLG Ethernet Blade Switch
HPE 6127XLG Blade Switch
HPE FlexFabric 5800 Switch Series
HPE FlexFabric 5820 Switch Series
HPE FlexFabric 5830 Switch Series
HPE FlexFabric 5920 Switch Series
HPE FlexFabric 5930 Switch Series
HPE FlexFabric 5950 Switch Series
HPE FlexNetwork 10500 Switch Series
HPE FlexFabric 12500 Switch Series
HPE FlexFabric 11900 Switch Series
HPE FlexFabric 12900 Switch Series
HPE ConvergedSystem 300 for Microsoft Analytics Platform
HP X125 1G SFP Transceivers
HPE Firewall Series
HPE MSR20-1x Series
HPE FlexNetwork MSR1000 Router Series
HPE FlexNetwork MSR2000 Router Series
HPE FlexNetwork MSR3000 Router Series
HPE FlexNetwork MSR4000 Router Series
HPE FlexNetwork 6600 Router Series
HPE FlexNetwork HSR6600 Router Series
HPE FlexNetwork HSR6800 Router Series
HPE FlexNetwork MSR95x Router Series
HPE OfficeConnect 1910 Switch Series
HPE FlexNetwork 3100 EI Switch Series
HPE 3600 EI Switch Series
HPE 3600 SI Switch Series
HPE FlexNetwork 5120 SI Switch Series
HPE FlexNetwork 5130 EI Switch Series
HPE FlexFabric 5800 Switch Series
HPE FlexFabric 5820 Switch Series
HPE FlexFabric 5830 Switch Series
HPE FlexFabric 5920 Switch Series
HPE FlexFabric 5930 Switch Series
HPE FlexFabric 5950 Switch Series
HPE FlexNetwork 10500 Switch Series
HPE FlexFabric 12500 Switch Series
HPE FlexFabric 11900 Switch Series
HPE FlexFabric 12900 Switch Series
HPE ConvergedSystem 300 for Microsoft Analytics Platform
HPE FlexNetwork MSR3000 Router Series
HPE FlexNetwork MSR4000 Router Series
HPE FlexNetwork 6600 Router Series
HPE FlexNetwork HSR6600 Router Series
HPE FlexNetwork HSR6800 Router Series
HPE FlexNetwork 5130 EI Brazil Switch Series
HPE FlexNetwork 5130 HI Switch Series
HPE FlexNetwork 5510 HI Switch Series
HPE FlexFabric 5700 Switch Series
HPE FlexFabric 5900 Switch Series
HPE FlexFabric 5900CP Switch Series
HPE FlexFabric 5940 Switch Series
HPE FlexFabric 5980 Switch Series
HPE FlexNetwork 7500 Switch Series
HPE FlexFabric 7900 Switch Series
HPE Apollo Ethernet 10/40GbE Switch Gen10
HPE StoreFabric M-Series SN2400
HP 3610 Switch Series
HP 4200G Switch Series
HP 4210 Switch Series
HP 4210G Switch Series
HP 4500 Switch Series
HP 4500G Switch Series
HP 4510G Switch Series
HP 4800G Switch Series
HPE 5120 EI Switch Series
HP 5500 Switch Series
HP E5500G Switch Series
HPE 5500 EI Switch Series
HPE 5500 HI Switch Series
HPE 5500 SI Switch Series
HP 5810-48G Switch
HP 9500 Switch Series
HPE MSR20 Series
HPE MSR30 Series
HPE MSR50 Series
HP 8800 Router Series
HPE 830 Unified Wired-WLAN Switch Series
HPE 850 Unified Wired-WLAN Appliance Series
HPE 870 Unified Wired-WLAN Appliance Series
HP WX5000 Access Controller Series
HPE 6125G Ethernet Blade Switch
HPE 6125G/XG Ethernet Blade Switch
HPE 6125XLG Ethernet Blade Switch
HPE 6127XLG Blade Switch
HP X125 1G SFP Transceivers
HPE Firewall Series
HPE MSR20-1x Series
HPE FlexNetwork MSR1000 Router Series
HPE FlexNetwork MSR2000 Router Series
HPE FlexNetwork MSR95x Router Series
HPE OfficeConnect 1910 Switch Series
HPE FlexNetwork 3100 EI Switch Series
HPE 3600 EI Switch Series
HPE 3600 SI Switch Series
HPE FlexNetwork 5120 SI Switch Series
HPE FlexNetwork 5130 EI Switch Series
HPE FlexNetwork 5130 EI Brazil Switch Series
HPE FlexNetwork 5130 HI Switch Series
HPE FlexNetwork 5510 HI Switch Series
HPE FlexFabric 5700 Switch Series
HPE FlexFabric 5900 Switch Series
HPE FlexFabric 5900CP Switch Series
HPE FlexFabric 5940 Switch Series
HPE FlexFabric 5980 Switch Series
HPE FlexNetwork 7500 Switch Series
HPE FlexFabric 7900 Switch Series
HPE Apollo Ethernet 10/40GbE Switch Gen10
HPE StoreFabric M-Series SN2400
HP 3610 Switch Series
HP 4200G Switch Series
HP 4210 Switch Series
HP 4210G Switch Series
HP 4500 Switch Series
HP 4500G Switch Series
HP 4510G Switch Series
HP 4800G Switch Series
HPE 5120 EI Switch Series
HP 5500 Switch Series
HP E5500G Switch Series
HPE 5500 EI Switch Series
HPE 5500 HI Switch Series
HPE 5500 SI Switch Series
HP 5810-48G Switch
HP 9500 Switch Series
HPE MSR20 Series
HPE MSR30 Series
HPE MSR50 Series
HP 8800 Router Series
HPE 830 Unified Wired-WLAN Switch Series
HPE 850 Unified Wired-WLAN Appliance Series
HPE 870 Unified Wired-WLAN Appliance Series
HP WX5000 Access Controller Series